Membership Luncheons
Stay tuned for information about our next luncheon!
The PBPA hosts membership luncheons throughout the year featuring a distinguished guest speaker. Membership Luncheons are a great way to meet PBPA members and hear from experts on topics that are pertinent to the oil & gas industry.
This page will be updated with information about the most current luncheon as it becomes available. Questions? Contact our team.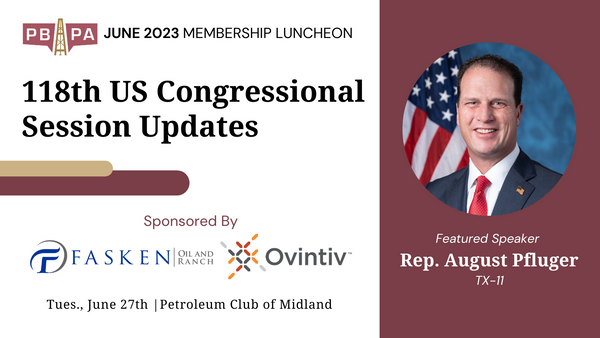 Join us on June 27th for our Membership Luncheon featuring Rep. August Pfluger of U.S. District TX-11! Enjoy lunch at the Petroleum Club of Midland while you hear the latest news about the 118th Congressional Session.
A debt deal has been reached that includes permit reform and changes to NEPA. What does that mean for operations in the Permian Basin? What about the possible non-attainment designation from the EPA? Join us to find out the latest!
Special thanks to Fasken Oil & Ranch and Ovintiv for their sponsorship of this event!
Schedule:
11:30 AM: Registration & Lunch
12:00 PM: Speaker Begins
1:00 PM: Dismissal
About Rep. August Pfluger
Congressman August Pfluger represents 20 counties in Texas, including Midland, Odessa, San Angelo, Killeen, Brownwood, and Llano. He grew up in San Angelo and served twenty years as a decorated fighter pilot, later as an advisor on the National Security Council, and still serves as a Colonel in the Air Force Reserves.
In Congress, Rep. Pfluger is the first Member to represent Midland and Odessa on the Energy and Commerce Committee. He also serves on the House Committee on Homeland Security and co-founded the MACH 1 Caucus and the Texas Ag Task Force.
Get Involved
To be an exclusive luncheon sponsor or for assistance registering, please contact Jamie Ramirez.
jamie@pbpa.info | (432) 684-6345
P.O. Box 132 | Midland, Texas 79702