2024 Top Hand Award Banquet
January 18th | Petroleum Club of Midland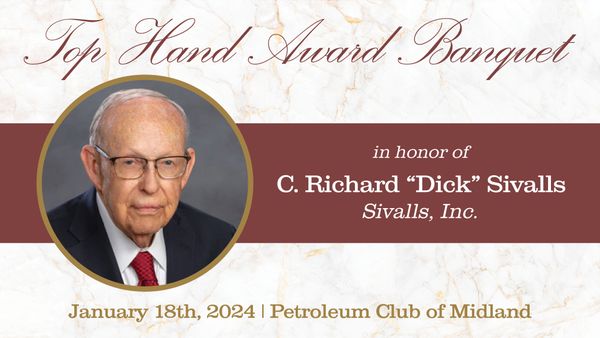 Join us at the Petroleum Club of Midland for the 2024 Top Hand Award Banquet honoring 2023 Top Hand, C. Richard "Dick" Sivalls.
The PBPA Top Hand Award is the highest award bestowed by the members of the PBPA, and one of the highest honors given to an energy professional in the Permian Basin. Being a Top Hand means that you exemplify all of the best qualities of professional and community service.
Event Details:
6:00 PM Reception
7:00 PM Banquet Dinner
Attire: Black Tie Optional
Reserve a Table
Reserve a table for 8 for you and your friends or colleagues to show support for Mr. Dick Sivalls during this momentous occasion.
Ranging from $1,500 - $10,000, tables are available for all companies and supporters.
Tables can be reserved in the Main Ballroom or the North Dining Room. You'll want to be a part of one of the PBPA's most popular events! Contact our staff for more details.
Purchase Individual Tickets
Individual Tickets - $250/person
Register as an individual to attend and show your support for this year's Top Hand.
All Individual ticket holders will be seated in the North Dining Room at the Petroleum Club.
About Mr. Sivalls
Dick Sivalls was born on November 13, 1934, in Oklahoma City, OK. He attended the University of Oklahoma and received a B.S. Degree (with Distinction) in Mechanical Engineering, and held several honorary positions and memberships in his time there, including Phi Eta Sigma, Pi Tau Sigma, Sigma Tau, Tau Beta Pi, Omicron Delta Kappa, and Sigma Chi. He was also the business manager of the Engineering Magazine, receiving the Sooner Shamrock Award twice. Dick is a Licensed Professional Engineer (PE) and a Fellow Member of the National Society of Professional Engineers (F.NSPE)
Dick was married to the late Lura Jo, with whom he had two children, Stephanie Lynne (Sivalls) Latimer and Tracy Louis Sivalls. Additionally, Dick is a proud grandparent of three wonderful grandchildren.
After serving two years in the U.S. Army Signal Corp where he achieved the rank of Sergeant, Dick started his professional career in the oil and gas industry. He has worked for Sivalls, Inc. since 1959 and is currently President and Chief Executive Officer. Sivalls, Inc. designs, manufactures and sells process equipment for the oil, gas, and petrochemical industries. Dick still holds the title of President of Tectrol, Inc. and Control Ventures, Inc. (formerly Control Equipment, Inc.).
Throughout his illustrious career, Dick has been incredibly active in many oil and gas Trade Associations and is Past Chairman of the Permian Basin Petroleum Association. He has also held several elected offices including City Council of Odessa, Mayor Pro-Tem of Odessa, Permian Basin Regional Planning Commission, and is a long-standing Board Member of the Permian Basin International Oil Show
In addition, he has written and published over 40 technical articles and papers on oil and gas production and processing equipment design and taught engineering short courses in gas processing and oil treating at Texas Tech University, the University of Oklahoma, and Texas A&M University. Dick also has the honor of being a member of the Distinguished Graduates Society of the College of Engineering at the University of Oklahoma.
Get Involved
To reserve a table or purchase tickets, please contact Jamie Ramirez.
P.O. Box 132 | Midland, Texas 79702
jamie@pbpa.info | (432) 684-6345