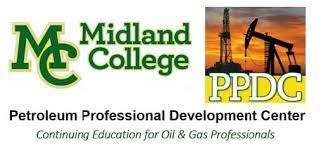 Midland College Petroleum Professional Development Center (PPDC)
The Petroleum Professional Development Center (PPDC) of Midland College provides quality continuing education for the Permian Basin energy industries. The center is one of seven mid-career training centers worldwide recognized by the American Association of Petroleum Geologists (AAPG).
The mission of the PPDC is to provide quality continuing education designed to keep oil and gas industry professionals current in their areas of expertise through dynamic interaction between the community, the college, and the industry. The PPDC will provide high-quality, timely, and pertinent educational opportunities to meet the professional development needs of those working in the regional energy industry.
Many of their classes qualify for re-certification credits that Professional Engineers, Professional Geologists, and Petroleum Landmen use to maintain their professional certification status.
The PPDC also holds various symposiums on timely issues important to the region's oil and gas industry. Specifically, the PBPA partners to help host the Permian Basin Environmental Regulatory Seminar each year to help you keep current on the most recent regulations and policy changes.